---
Questions To Ask When Choosing A Corn Product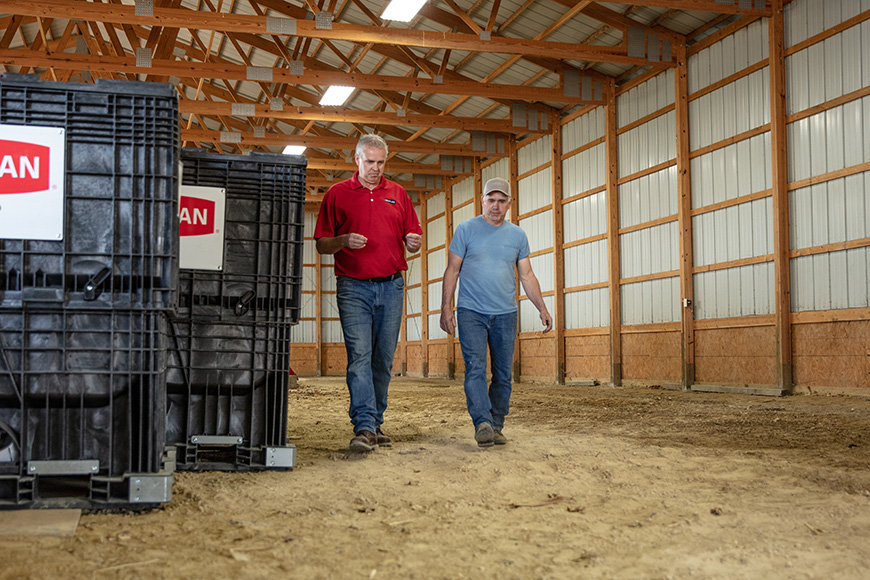 There's a lot to consider when choosing your corn hybrids each year. Usually, relationships and personal history play more into the decision than many of us would like to admit. But if you're looking to break free of your obligatory purchases from your farmer-dealer poker buddy, start by asking these questions.
What Data Do You Have Behind This Hybrid?
We're not talking about whether it's your neighborhood plot winner. We're talking about robust data from replicated trials in multiple locations. Because the truth is, not all data is good data. It's important to understand where the data came from and how sound it is. At the end of the day, any hybrid can be successful somewhere. What's important is that you know a hybrid will work on your ground under your management system.
CROPLAN
®
products are vetted not only for the national market but also for the local market through the Answer Plot
®
system. They have the knowledge and insights behind them to help maximize the ROI potential for every acre. Your local ag input retailer will be able to share that data as you're deciding between hybrids to help you make a decision grounded in facts and figures, not emotions.
How Does This Hybrid Need To Be Managed?
This isn't just about disease or pest tolerance ratings. This is about how the hybrid will respond to your management decisions. Does it hold its own in a stressful environment or do you need to place it on a premium acre? Will it respond profitably to a fungicide application? How does it respond to nitrogen? Will you need to increase the fertilizer rates or can you cut back with this product?
All CROPLAN corn products come backed with
response-to data
. These scores help you determine how to manage each hybrid for the greatest return on input investment. Each hybrid has a rating, either high, medium or low, in three categories: response-to fungicide (RTF), response-to population (RTP) and response-to nitrogen (RTN).
Let's take a look at
CP3852TRE
, for example. You will see it's rated medium RTP, medium RTN and high RTF. With those medium ratings, we can infer that the hybrid will likely succeed on average population and nitrogen environments. Its high RTF score, however, means you should prioritize applying a premium fungicide to this product because data suggests it will respond greatly, which can increase the profit potential on your investment.
What Seed Treatment Comes With It?
Planting corn without a quality seed treatment is like going to the airport without a passport. You're not going to get very far.
We know how critical seed treatments are. That's why all our corn hybrids come with
Fortivent® Plus
seed treatment included.
Fortivent Plus combines the early-season insect control of Poncho
®
VoTiVo
®
seed treatment, ethaboxam fungicide for enhanced pythium control and Fortivent Zn for early corn development, including stand establishment and improved yield potential. We're one of the only seed brands in the industry to offer zinc as a standard treatment on all commercial hybrids to promote early-season growth and root development. In addition to a premium seed treatment to safeguard your investment, you can also rest assured knowing that a replant policy backs your CROPLAN hybrids.
1
What Support Do You Offer Throughout The Season?
One advantage of buying seed through your local ag input retailer is that you know they'll be there alongside you all season long. From fertilizer to crop protection, they're already ingrained in your operation to some degree.
So there is nobody who understands how to maximize seed yield and ROI potential quite like them. And that's exactly why you can only find CROPLAN seed at the nation's best retailers. They're in the best position to evaluate seed in context of all the other decisions you need to make on each acre.
If you're looking to prioritize performance and ROI on your farm this season, look to CROPLAN. Reach out to your
local retailer
to start making plans for 2024 today.
1
Certain restrictions apply. Talk with your CROPLAN seed dealer for details.
All photos are either the property of WinField United or used with permission.
© 2023 WinField United. Important: Before use always read and follow label instructions. Crop performance is dependent on several factors many of which are beyond the control of WinField United, including without limitation, soil type, pest pressures, agronomic practices and weather conditions. Growers are encouraged to consider data from multiple locations, over multiple years and to be mindful of how such agronomic conditions could impact results. Answer Plot, CROPLAN, Fortivent and WinField are trademarks of WinField United. All other trademarks are the property of their respective owners.
Thank You for Signing Up.
Subscribe to the Advisor Newsletter
Sign up for monthly agronomic insights and product information.
Get the latest insights and tips from – directly to your inbox. Subscribe to the Advisor e-newsletter.
Keeping you up to date on the latest news, information and agronomic tips in the industry, national and local.
Interviews with the some of the most talented agronomists in the country.
Proprietary research updates from our WU labs.
Delivered to your inbox 2x a month.
By signing up for WinField United emails, you agree to receive promotional information from WinField United. The emails will contain valuable agronomic insights, the latest WinField United product information and field updates. For more information about our privacy policy, please review it here.